Maximize Your Mission with Data-Driven Intelligence
Empower your organization with targeted donor models, up-to-date demographic data, and easy-to-use analytics. Gain deep insights into your service areas to better understand where your services and resources are most effective and most needed.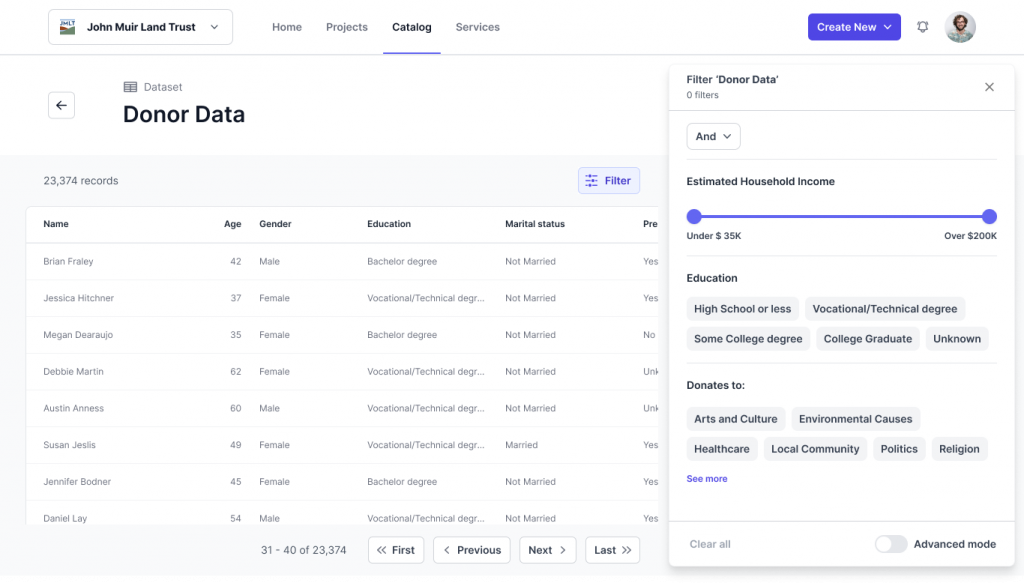 Discover Your Perfect Donor
Instant Donor Lists: Don't waste time scraping a fractured data landscape. Build lists identifying donors aligned with your mission from a database of all voting-age Americans.
Smart Prospecting: Ditch manual research. Harmonize your data with our thousands of variables and build models revealing new prospects based on your best donor attributes.
Accurate Contacts: Updated regularly, records contain accurate contact information, including email, address, phone number, and other contact information.
Community Analysis: Identify communities receptive to your message through powerful area filtration and thousands of searchable demographic and economic geographic data sets.
Clearly Understand Your Impact
Strategic Mapping: Demystify your outreach territory. Define and visualize service areas meticulously, ensuring your resources are allocated strategically and effectively.
Resource Efficiency: Maximize the impact of every resource, while minimizing waste. Achieve unparalleled efficiency in delivering services where they matter most.
Real-Time Agility: Stay ahead of the curve with current data updates. Pivot swiftly to address evolving community needs with agility and finesse.
Seamless Collaboration: Promote synergy among your team and partner organizations. Facilitate data-sharing and collective insights with ease.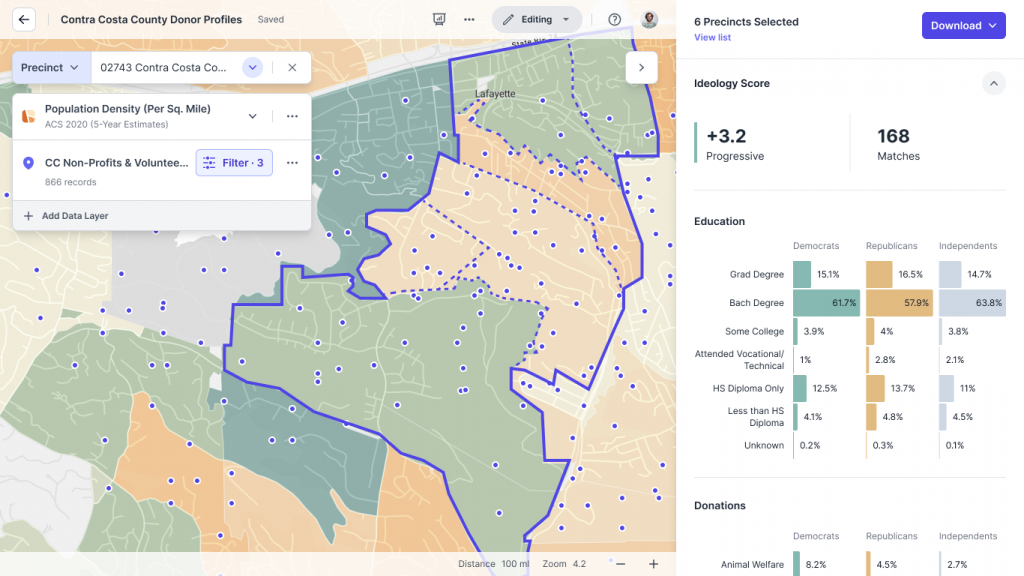 Harmonization: Simplify your data management with our intuitive data wrangling features, making your tasks more efficient than ever.
Intuitive Segmentation & Filtering:

Easily refine and categorize your data for more targeted analysis and insights.

Data Enhancement: Enrich, validate, and refine your information, ensuring more accurate and valuable results.
Tailored Modeling: Customized data models tailored to the unique needs of your organization, empowering you to make data-driven decisions and to drive your mission.
Social Explorer data comes from trusted public and proprietary sources. With years of data research and handling experience, we curate and process every data point that goes into our system.
Let's talk how Social Explorer can help your business